Pest Control Business Insurance
PestSure is much more than a pest control liability insurance company. We are a valued resource for the pest control industry.
Pest Control Business Members rely on us for the best coverage — specifically tailored to pest control operators. Our team understands your business and risk exposures, and we strive to make the cost of pest control liability insurance premiums stable and predictable so you can focus on running your business.
PestSure works with agents and brokers. If you would like to receive a proposal from us, have them give us a call at 800-326-6203.
Industry Trends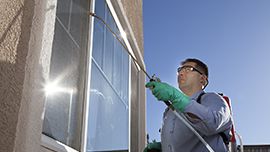 Pesticide contamination is usually found on hands, yet a self-reported PPE usage survey reveals that only 25 to 30 percent of pesticide users always use gloves for mixing and application.
Dermal Exposure Associated with Occupational End Use of Pesticides and the Role of Protective Measures - Science Direct